Brooks Norton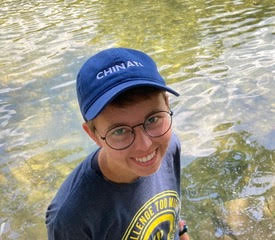 Brooks Norton is an MA student in the American Studies department. Originally from Dallas, Texas, she received a BA from Sarah Lawrence College where she studied Writing and American History. Her interests are in the ways that history is thought about, taught, and discussed in popular culture, particularly involving race and gender. 
---
Where did you go for undergrad and what did you study there?
I went to Sarah Lawrence College which is about half an hour outside New York City. I studied American History and Writing.  
What or who inspired your interest in American Studies?
I've always loved history, but I was really drawn to the interdisciplinary nature of American Studies. 
Where is your favorite place in the world?
I really love Taos, New Mexico. The desert and the mountains out there are so beautiful. 
Imagine you're up to bat as a Major League Baseball Player. You need a walk-out song. Which would you choose?
"The Distance" by Cake. It was the song I listened to before meets when I ran cross country.