Julie Chamberlain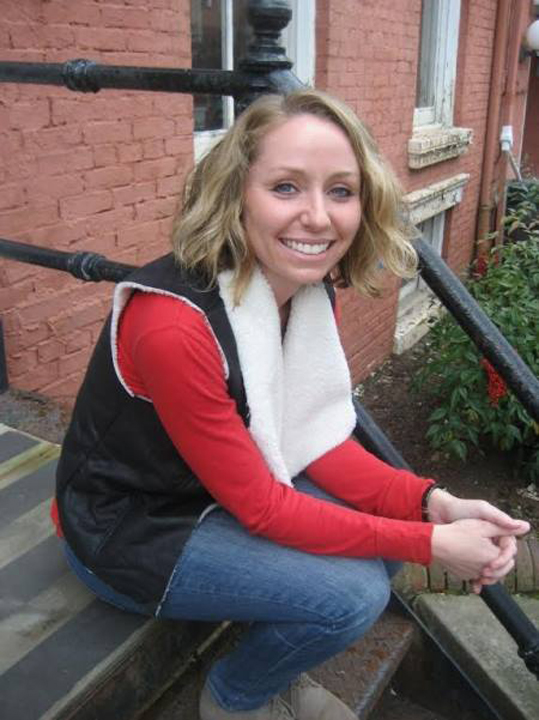 In March 2023, Julie Chamberlain defended her dissertation, titled "Mother Teresa and American Catholics' Mission to the World: Foreign Missions and Humanitarianism in the Mid-Twentieth Century." Melani McAlister is her dissertation advisor, and Michael Barnett and Elaine Peña sit on her committee. 
Julie's dissertation examines American Catholics' encounters with one of the most famous global icons of the twentieth century: Mother Teresa. In particular, it charts Mother Teresa's rise as an icon of both missionary work and humanitarianism within U.S. Catholic circles between the 1950s and early 1970s — decades in which she was not yet well-known among the broader American public. Drawing on a variety of Catholic archives, it places Mother Teresa's emergence in American life within the context of U.S. foreign relations, U.S. Catholicism, and U.S. religious history more generally. It demonstrates how U.S. Catholics and their institutions, particularly Catholic Relief Services and the Catholic press, enabled Mother Teresa's expanding global reach and renown at a time when U.S. Catholics were becoming powerful international actors. It also reveals the ways that Mother Teresa, in return, became a vessel through which U.S. Catholics came to understand their evolving role in the world. These forces helped set the stage for Mother Teresa to burst onto the larger U.S. scene in the 1970s. Overall, my research provides insight into a highly influential figure who is virtually absent in studies of U.S. history and, more broadly, into the ways that religion intersected with Americans' expanding presence on the global stage in the mid-twentieth century.
Julie's research has been supported by multiple academic associations and organizations. She is a recipient of the American Academy of Religion's International Dissertation Research Grant as well as a Cosmos Club Foundation Scholar. Her work has also been supported by Notre Dame's Cushwa Center for the Study of American Catholicism, the Study for the Social Scientific Study of Religion, the Scowcroft Institute for International Affairs at Texas A&M, and the Jeffrey C. Kasch Foundation. This and other support has enabled her to conduct research across the United States and abroad, including in Calcutta, India, where Mother Teresa's "headquarters" are located. 
At GWU, Julie taught a variety of courses on American history. She taught the undergraduate lecture course on U.S. Religion and Politics and undergraduate seminar based on her dissertation, which was titled 'Religious Icons in American Culture and Politics." Additionally, she served as a Teaching Assistant for U.S.-Middle East Cultural Encounters, America in the Sixties, The American City, Twentieth Century U.S. Immigration, Sexuality in U.S. History, and Early American Cultural History.
Prior to GWU, Julie received her M.A. in Religion from Duke University and her B.A. in Philosophy and Spanish from Auburn University. At Duke, Julie focused primarily on American evangelicalism. For her M.A. thesis, titled "New Monasticism, Racial Reconciliation, and the Search for Legitimation," she conducted a yearlong ethnographic project with an intentional community of Christians in Durham, North Carolina, who are part of a burgeoning movement known as New Monasticism. In it, she explored how the members of the Rutba House–preponderantly white, middle class, and evangelical–practiced racial reconciliation and "submission" in an attempt to subvert white power and legitimate their place within the black church tradition. This research contributes to growing scholarship on "progressive evangelicalism," as well as to the study of religion and race in the United States. 
Julie is happy to discuss her work, especially regarding potential conference collaborations. You can reach her through email at [email protected].
---
What are you studying/working on right now?
I'm just starting to write my dissertation, which examines the changing role of religion in American public and political life since the mid-1970s by analyzing the way that prominent "global" religious icons—including Mother Teresa, the Dalai Lama, and Desmond Tutu—captured Americans' moral imaginations and humanitarian and religious sensibilities through discourses of compassion and peace. My broader questions revolve around how and why these individuals came to serve as prominent models for ethical living and selfhood in the United States during this period and what this tells us about U.S. religious politics and also the nation's broader relationship with the emerging "Global South." At the moment, I'm focusing on Mother Teresa, looking at how Americans turned to her in order to reassess standard "Western" engagement with medical care, end-of-life issues, and notions of death and disability. 
 
What did you study in undergrad and where?
As an undergrad, I majored in Philosophy and Spanish at Auburn University. I then completed a master's degree in Religion at Duke University before coming to GW.

Why American Studies and why GW?
I was intrigued by the unique work of faculty in the GW American Studies Department with regards to their innovative approaches to the study of religion. Their work really pushes the boundaries of more conventional scholarship in the field as well as demonstrates the way that religion is relevant to a much wider range of academic interests than one might imagine.

What is your favorite book?
I don't read a whole lot outside of my schoolwork at this point. But, when I do, I usually reach for a memoir or a travel narrative. These genres came together for me when I traveled to Kenya this past summer and read Karen Blixen's Out of Africa alongside the postcolonial memoirs of Kenyan author Ngũgĩ wa Thiong'o, including In the House of the Interpreter.  I think my travel companions got kind of annoyed with all of my references. 

What is your favorite thing to do in DC?
I play soccer every Saturday on a District Sports team, a sport I've played since I was very young. I also like that DC is a good base for exploring the surrounding area. Assateague Island and Great Falls have become favorites. Having grown up in a pretty rural area, it feels good to get out. 

What advice would you give to the GW undergrads in American Studies?
I would tell undergrads to not be timid about sharing their ideas, reaching out to their professors, or generally be outgoing professionally. Enthusiasm and genuine interest go a long way. I say this because I struggle with these things myself, but I always look back and realize I could have benefited from taking more chances. I would also tell them to brush up on their email etiquette.
Prizes, Fellowships, & Grants
2016
Julie Chamberlain presented a paper at the annual meeting of the American Studies Association, titled "Healing the Broken Body: Mother Teresa and the Transnational Politics of Compassion on Nov 17. 
Julie Chamberlain was a 2016 recipient of the Cosmos Scholars Award from the Cosmos Club Foundation.  Chamberlain also received a 2016 O'Donnell Research Grant (George H.W. Bush Library) from the Scowcroft Institute of International Affairs and a research travel grant from Cushwa Center for the Study of American Catholicism, University of Notre Dame. She presented her paper "A Saint for Our Times": Mother Teresa, U.S. Foreign Relations, and the American Moral Imagination" at  the Society for the History of American Foreign Relations Annual Meeting, in San Diego, CA in June. 
Jeffrey C. Kasch Foundation Research Grant: Read about Julie's research trip. 
Read our interview with Julie on winning the Cosmos Grant .