Julie Chamberlain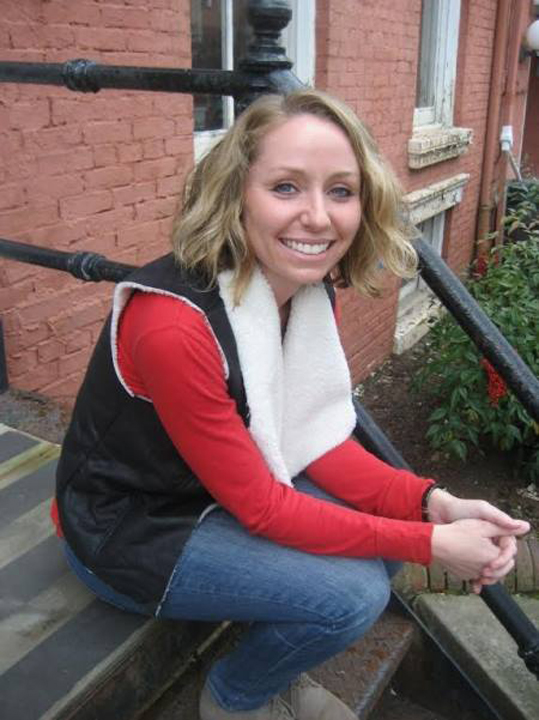 Julie Chamberlain began GW's Ph.D. program in American Studies in the fall of 2012 and advanced to candidacy in 2015. She is currently completing her dissertation, titled "Cultivating Compassion: Global Religious Icons and the American Moral Imagination, 1975-Present." Melani McAlister is her dissertation advisor, and Kip Kosek and Elaine Peña sit on her committee. She is the 2017 recipient of the American Academy of Religion's International Dissertation Research Grant and a 2016 Cosmos Club Foundation Scholar. Her work has also been supported by the Study for the Social Scientific Study of Religion, Notre Dame's Cushwa Center for the Study of American Catholicism, and the Scowcroft Institute for International Affairs at Texas A&M. This and other support has enabled her to conduct research across the United States as well as in India and South Africa.
Prior to GW, Julie received her M.A. in Religion from Duke University and her B.A. in Philosophy and Spanish from Auburn University. Before enrolling at GW, she administered international exchange programs for the U.S. Department of State, USAID, and other organizations through the University of Alabama in Huntsville. She is currently teaching an undergraduate seminar based on her dissertation, titled 'Religious Icons in American Culture and Politics." She has also taught the undergraduate lecture course on U.S. Religion and Politics. She has been a Teaching Assistant for a range of other courses, including U.S.-Middle East Cultural Encounters, America in the Sixties, The American City, Twentieth Century U.S. Immigration, Sexuality in U.S. History, and Early American Cultural History.
Her dissertation, Cultivating Compassion, sits at the intersection of U.S. religion and politics, transnational studies, and media and cultural history. At the broadest level it examines the changing nature of religion, global politics, and morality in American life since the 1970s. More specifically, it explores the globalization of Americans' moral imaginations by analyzing how four prominent "global" religious icons—Elie Wiesel, Mother Teresa, Desmond Tutu, and the Dalai Lama—captured Americans' ethical and religious sensibilities through discourses of suffering and compassion, and channeled them into a range of global ecumenical movements.
Drawing on religious, cultural, and government archives, each chapter focuses on one figure, tracing the ways in which their witness to human suffering galvanized U.S. audiences in the face of particular global crises, such as genocide, poverty, and racism, and how they became symbols of morality across national borders. She demonstrates how, in a period marked by deep anxieties about the role of the U.S. in the world, Americans turned to these figures as moral authorities uniquely equipped to contend with the brutality of the modern world as well as with the moral bankruptcy of "Western civilization" itself.
She frames her analysis by tracing the emergence of what she terms "compassionate cosmopolitanism," a globalized brand of popular spirituality in which religion became sutured to compassion and to the pursuit of world peace. She explores how this moral imagination coalesced around each figure, how each came to embody compassion for U.S. audiences—modeling for them what it looked and felt like—and how their campaigns for compassion targeted certain groups both domestically and internationally. The Nobel Peace Prize, awarded to each of these icons between 1979 and 1989, played a central role. This position enabled them to serve not only as cultural intermediaries but also as unofficial diplomats--leaders especially adept at navigating Americans' often-ambivalent relationship with the Third World. Their rising popularity also bolstered the idea that state leaders and conventional power politics were no longer capable of solving the world's most pressing problems. Through this platform, these icons challenged conventional understandings of the world's problems and its solutions, encouraging Americans to rethink global suffering on explicitly spiritual grounds.
By turning our attention to "global" rather than domestic religious leaders, this project disrupts dominant narratives of U.S. history in the past 40 years, providing a more holistic picture of religion's enduring authority in modern American life. In particular, it contributes to scholarship on American religious history, religious studies, transnational studies, cultural history, and American foreign relations (particularly with regard to U.S. humanitarianism and human rights).
At Duke, Julie focused primarily on American evangelicalism. For her thesis, titled "New Monasticism, Racial Reconciliation, and the Search for Legitimation," she conducted a yearlong ethnographic project with an intentional community of Christians in Durham, North Carolina, who are part of a burgeoning movement known as New Monasticism. In it, she explored how the members of the Rutba House–preponderantly white, middle class, and evangelical–practiced racial reconciliation and "submission" in an attempt to subvert white power and legitimate their place within the black church tradition. This research contributes to growing scholarship on "progressive evangelicalism," as well as to the study of religion and race in the United States. Though no longer studying evangelicalism exclusively, her dissertation asks how American evangelicals have taken up, as well as rejected, the influence of Mother Teresa, Elie Wiesel, the Dalai Lama, and Desmond Tutu, particularly with respect to interfaith and interracial relations and the development of "compassionate conservatism" as a political philosophy.
Julie is happy to discuss her work, especially regarding potential conference collaborations. You can reach her through email at [email protected].
---
What are you studying/working on right now?
I'm just starting to write my dissertation, which examines the changing role of religion in American public and political life since the mid-1970s by analyzing the way that prominent "global" religious icons—including Mother Teresa, the Dalai Lama, and Desmond Tutu—captured Americans' moral imaginations and humanitarian and religious sensibilities through discourses of compassion and peace. My broader questions revolve around how and why these individuals came to serve as prominent models for ethical living and selfhood in the United States during this period and what this tells us about U.S. religious politics and also the nation's broader relationship with the emerging "Global South." At the moment, I'm focusing on Mother Teresa, looking at how Americans turned to her in order to reassess standard "Western" engagement with medical care, end-of-life issues, and notions of death and disability. 
 
What did you study in undergrad and where?
As an undergrad, I majored in Philosophy and Spanish at Auburn University. I then completed a master's degree in Religion at Duke University before coming to GW.

Why American Studies and why GW?
I was intrigued by the unique work of faculty in the GW American Studies Department with regards to their innovative approaches to the study of religion. Their work really pushes the boundaries of more conventional scholarship in the field as well as demonstrates the way that religion is relevant to a much wider range of academic interests than one might imagine.

What is your favorite book?
I don't read a whole lot outside of my schoolwork at this point. But, when I do, I usually reach for a memoir or a travel narrative. These genres came together for me when I traveled to Kenya this past summer and read Karen Blixen's Out of Africa alongside the postcolonial memoirs of Kenyan author Ngũgĩ wa Thiong'o, including In the House of the Interpreter.  I think my travel companions got kind of annoyed with all of my references. 

What is your favorite thing to do in DC?
I play soccer every Saturday on a District Sports team, a sport I've played since I was very young. I also like that DC is a good base for exploring the surrounding area. Assateague Island and Great Falls have become favorites. Having grown up in a pretty rural area, it feels good to get out. 

What advice would you give to the GW undergrads in American Studies?
I would tell undergrads to not be timid about sharing their ideas, reaching out to their professors, or generally be outgoing professionally. Enthusiasm and genuine interest go a long way. I say this because I struggle with these things myself, but I always look back and realize I could have benefited from taking more chances. I would also tell them to brush up on their email etiquette.
Prizes, Fellowships, & Grants
2016
Julie Chamberlain presented a paper at the annual meeting of the American Studies Association, titled "Healing the Broken Body: Mother Teresa and the Transnational Politics of Compassion on Nov 17. 
Julie Chamberlain was a 2016 recipient of the Cosmos Scholars Award from the Cosmos Club Foundation.  Chamberlain also received a 2016 O'Donnell Research Grant (George H.W. Bush Library) from the Scowcroft Institute of International Affairs and a research travel grant from Cushwa Center for the Study of American Catholicism, University of Notre Dame. She presented her paper "A Saint for Our Times": Mother Teresa, U.S. Foreign Relations, and the American Moral Imagination" at  the Society for the History of American Foreign Relations Annual Meeting, in San Diego, CA in June. 
Jeffrey C. Kasch Foundation Research Grant: Read about Julie's research trip. 
Read our interview with Julie on winning the Cosmos Grant .