Sarah Asseff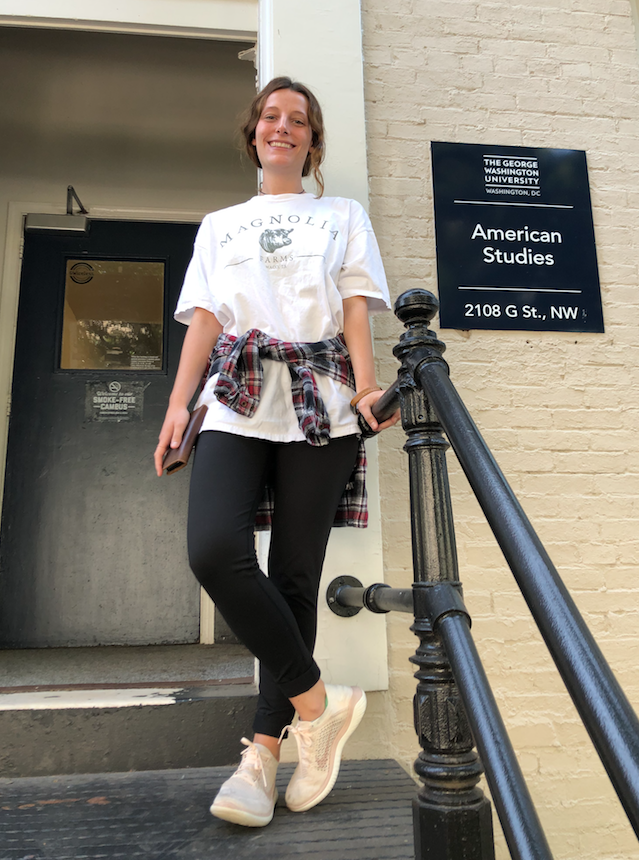 Sarah Asseff joined the American Studies department at George Washington University as a doctoral student in the fall of 2019. She graduated summa cum laude from the University of Alabama with dual bachelor's degrees in Economics and American Studies as well as a master's degree in Economics specializing in public policy. Her current scholarly interests have found convergence among these two disciplines focusing on the interplays between identity politics, neoliberal political theory, consumer culture, and global capitalism.
---
What are you studying/working on right now?
Recently I have really been preoccupied with the yuppie figure as well as exploring the ways in which countercultural representations have been co-opted by the commercial. David Brooks' Bobos In Paradise: The New Upper Class and How They Got There as well as Derek Hyra's Race, Class, and Politics in the Cappuccino City and Taylor Clark's Starbucked: A Double Tall Tale of Caffeine, Commerce, and Culture have all really given me some thought-provoking insights into issues surrounding inequality and gentrification.
Where/what did you study as an undergraduate? 
I studied American Studies and Economics at the University of Alabama - ROLL TIDE!
Why American Studies and why GW?
I came to GW because I wanted to be in an academic space where my intellectual curiosity could really flourish and find root. I was and still am so in awe of the intellectual brainpower in the department and feel that this is a place where I can cultivate a deeper sense of knowledge.
Is there one book or piece of media that inspired you to pursue the field of American Studies? If so, which one and why? 
Oddly enough I would say no! I have always been intrigued by and preoccupied with American history - something I tend to think that I got from my mom. I sort of happened upon the field and really just fell in love with its interdisciplinary approach. That being said, in my very first intro-level American Studies course we read The Things They Carried by Tim O'Brien and Coming of Age in Mississippi by Anne Moody; those works will always hold a special place in my heart.
What piece of advice would you give or what piece of advice has been most influential to you about living around GW and in DC? 
I'm not sure I've qualified to answer this question yet. I'm still trying to embrace Nick Saban's advice: "Be where your feet are."
If you were tasked with introducing yourself to a person only by recommending to them one film, which would you choose and why?
Moneyball. I've easily watched it a billion times (plus any time it's on TV). I think it has so much to say about the role of sports in society, the American dream, inequality, and the power of big data. Plus, it's a visually captivating and bittersweet story of redemption.
Imagine you're up to bat as a Major League Baseball player. You need a walk-up song. Which would you choose? 
"Rock'n Me" by the Steve Miller Band