Aryn Kelly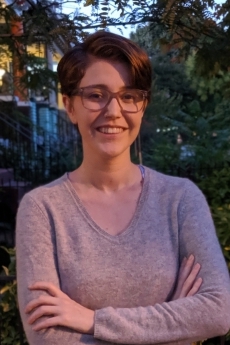 Aryn entered the Ph.D. program in 2019 with her eye to visual culture, trauma studies, media studies, and Black studies. She holds an M.A. in Liberal Arts with a concentration in American Studies from the University of South Florida; her master's thesis focuses on remediation of imagery from cell phone video of police brutality. She has also presented research on vernacular jazz dances, hidden transcripts, and the formation of a national youth culture in 1940s wartime America. Prior to pursuing her graduate education, Aryn spent several years working as a community organizer and grant writer at a domestic and sexual violence center. It was during this time that she grew interested in testimony and the performance of pain. She also holds a B.A. in Psychology from the University of South Florida.
---
What are you studying/working on right now?
I'm currently working on developing a stronger foundation in cultural studies. I'm also developing on the findings of my thesis and considering questions about production/distribution of citizens' media.
Where/what did you study as an undergraduate? 
I majored in Psychology at the University of South Florida.
Why American Studies and why GW?
The reputation of the department, its commitment to interdisciplinarity, and aligning interests with various faculty were all factors that went into my decision to attend GW.
What piece of advice would you give to someone about living around GW and in DC?
If you can, take the time to meet your neighbors. It's important anywhere.
Is there one book or piece of media that inspired you to pursue the field of American Studies?
There are so many, though Humane Insight by Courtney R. Baker comes to mind. The way she articulates the role images of suffering have in Black liberation movement has been incredibly important to my own research.
If you were tasked with introducing yourself to a person only by recommending to them one film, which would you choose? 
La Maison en Petits Cubes by Kunio Kato
Imagine you're up to bat as a Major League Baseball player and you need a walk-up song. What is it for you? 
"Jumpin' at the Woodside" by Count Basie