Joe Baez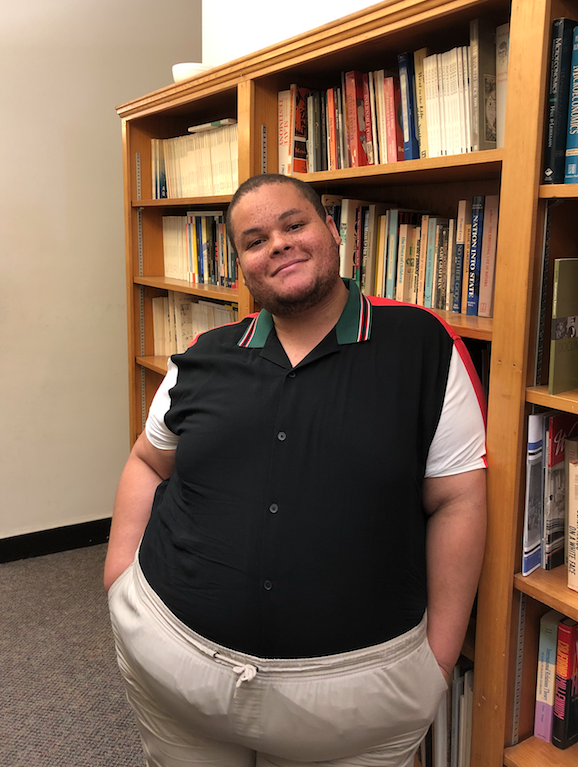 Joe Baez is a Ph.D. student in the American Studies department. In 2018, he received his B.A. in Women's and Gender Studies and Political Science from CUNY Brooklyn College. He is a former Mellon Mays Undergraduate Fellow, a former CUNY Pipeline fellow, and an alumnus of the Institution for the Recruitment of Teachers' (IRT) summer internship program. His research is on queer, fat people of color and their experiences on online dating applications. As a scholar, he dreams of radically transforming the ways we love ourselves, our bodies, and each other.
---
Where did you go for undergrad and what did you study?
I received my B.A. in Political Science and Women's & Gender Studies from CUNY Brooklyn College.
What are you studying now?
My research is on queer, fat people of color and their experiences on online dating applications. Currently, I am interested in fat-positivity on social media and the imaginative, political worlds it creates.
What brought you to GW to continue your studies?
I came to American Studies for a safe, fruitful space to study my identities, and people whose identities are like mine. I want to produce work that is interdisciplinary and in a department that holds space for my creative desires. The research interests of the faculty in this department make me feel safe and confident that my work will develop in beautiful ways.
What piece of advice would you give or what piece of advice has been most influential to you about living around GW and in DC? 
Buy your food and your other necessities early in the day because businesses close ridiculously early here.
Is there one book/piece of media that inspired you to pursue the field of American Studies? If so, which one and why? 
Swallow the Fish: A Memoir in Performance Art by Gabrielle Civil. I am completely awe of how Civil centers her body, her identities and her desires in such creative, unpredictable ways. As a metaphor, Swallow the Fish pushes readers to take risks in every aspect of their life. And that is what I strive to do in American Studies.
If you were tasked with introducing yourself to a person only by recommending to them one film, which would you choose and why? 
This is such a tough question, but I have to go with Rent.
Imagine you're up to bat as a Major League Baseball player. You need a walk-up song. Which would you choose?
"7 Rings" by Ariana Grande.