Kwabena Slaughter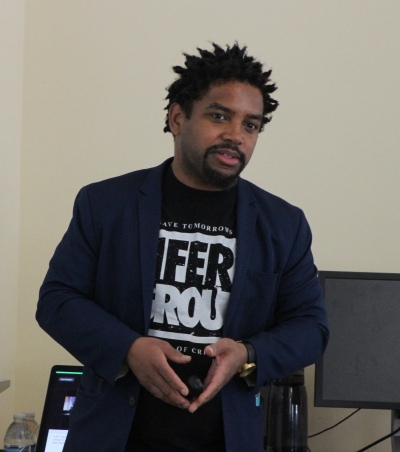 Kwabena Slaughter is a PhD student in American Studies at George Washington University. He is interested in the intersection of the 19th Century black industrial education and the early days of western modernism. He is a visual artist with an MFA from the University of Illinois at Chicago. His artwork is in museum and private collections across the US. He's also worked as a producer of performing arts programs at Lincoln Center and at the Met Museum in New York city.
---
What are you studying/working on right now? 
I'm researching Booker T. Washington's relationship with the visual arts.
Where and what did you study as an undergraduate? 
I got my Bachelors Degree at Oberlin College where I majored in Studio Arts and minored in African-American Studies. I also received an MFA in Studio Arts from the University of Illinois at Chicago where I focused on video/photo and performance art.
What brought you to the American Studies department at GW? 
The American Studies discipline was recommended to me by a colleague working at the intersection of the arts and social justice. GW's program interested me for its excellent reputation and proximity to the stupendous research assets of Washington D.C.
What piece of advice would you give, or what piece of advice has been most influential to you, about living around GW/in Washington, D.C.? 
Get a reader card at the Library of Congress, and don't forget to look up.
Is there one book/piece of media that inspired you to pursue the field American Studies? If so, which one and why? 
A little known book by Booker T. Washington called The Man Farthest Down, in which Washington chronicles his survey trip across Europe comparing the lives of poor Europeans to those of blacks living in the American South.
If you were tasked with introducing yourself to a person only by recommending to them one film, which would you choose and why? 
Africa: Texas Style; a film about a farmer's attempt to domesticate wild zebras and wildebeest to create livestock farms in Africa. Seeing cowboys on horseback chasing and lassoing a rhinoceros is a surreal experience. Tears of the Black Tiger is another surreal one. It's a cult classic from Thailand shot in the format of an American Western. Did I say Django Unchained? I guess I like riffs on the Western trope. I absolutely love Teorema. It's not a Western. I'm multi-faceted. It takes more than one film to define me.
Imagine you're up to bat as a Major League Baseball player, taking the stage as a stand-up comic or politician, or whatever. You need a walk-up song. Which would you choose? 
Mahlalela by Leta Mbulu and Hugh Masakela