Molly Henderson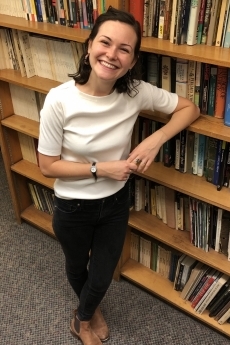 Molly Henderson entered the American Studies department in 2019 with interests in gender studies, media studies, and urban studies. In particular, she focuses on depictions of women and girls in popular culture, imagery of suburbia, representations of the American family, and popular memory and nostalgia. Her undergraduate thesis, "Rebuilding Dream Images: Nostalgia for the Home, the Family, and the Housewife in the Suburban Sitcom," analyzed the ways in which televisual depictions of suburbia and its archetypal housewife figure are concretized as nostalgic ideals in popular memory, with the ultimate effect of influencing conceptions of family and suburban life in reality, past and present. Molly graduated summa cum laude from Northwestern University with a B.A. in American Studies and Urban Studies. She has also completed internships with the Baltimore Museum of Industry and the Smithsonian Folklife Festival.
---
What are you studying/working on right now?
I'm new to the program, so right now I'm focusing on expanding my knowledge of the cultural studies methodology. I'm also increasingly interested in American myth-making, domestic labor, and material culture.
Where/what did you study as an undergraduate? 
I majored in American Studies and Urban Studies and minored in World Literature at Northwestern University.
Why American Studies and why GW?
For me, American Studies was love at first sight. I believe interdisciplinarity is the most interesting way to approach research questions. I chose GW based on the department. The faculty as well as graduate students are not only incredibly accomplished, but also wonderfully supportive. I'm also thrilled to have access to the breadth of museums and archives that D.C. offers.
What is the best piece of advice that you have received about moving to DC? 
Get a bike!
Is there one piece of media that inspired you to pursue the field of American Studies? 
In a freshman year history class, I read Stayin' Alive: The 1970s and the Last Days of the Working Class by Jefferson Cowie, which includes a section of how the song "Okie from Muskogee" was used by the Nixon campaign in an attempt to appeal to working class voters and consolidate his "Silent Majority." It was the first time I had ever learned about political and social change through a piece of popular culture, and it taught me to take media seriously as a field of study.
If you were tasked with introducing yourself only by recommending to someone one film, what would it be? 
Lady Bird, because its portrayal of mother-daughter relationships is one of the most complicated and heartrending I've seen, and we need more movies that take teenage girls and girlhood seriously as subjects (if they're written and directed by women, so much the better). It also indulges my nostalgia, as a former Catholic school girl and member of female friendships.
Imagine you are up to bat as a Major League Baseball player. You need a walk-up song. What is it? 
Is "American Girl" by Tom Petty too on the nose for a page on the American Studies website? If so, "Edge of Seventeen" by Stevie Nicks.