Teresa Murphy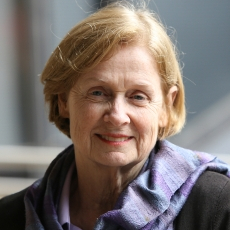 Teresa Murphy
Professor of American Studies and Senior Vice Provost for Academic Affairs
---
Contact:
Office Phone:
(202) 994-6130
801 22nd Street, Suite 212
Terry Murphy's work focuses on the relationship between gender and culture in the late eighteenth and early nineteenth centuries. She is particularly interested in how women manipulated gender conventions in roles of social activism and how ideas about gender evolved and were contested during this time period. Her broad fields of interest for both teaching and research are US Cultural History in the pre-twentieth century and US Women's History.
Her first book, Ten Hours Labor: Religion, Reform, and Gender in Early New England, analyzes the way in which gender relationships were expressed in evangelical revivals, temperance reform, and the labor movement of the antebellum period. She argues that many of the working people who participated in religious revivals and reform movements in New England used their practices to challenge employers rather than simply acquiescing to their employers' beliefs. She also analyzes how religion became a language of labor protest that women could wield with propriety.
Prof. Murphy's second book, Citizenship and the Origins of Women's History in the United States, focuses on the emergence of women's history as a genre during the late eighteenth and early nineteenth centuries. This study examines how this branch of domestic literature was deeply engaged with debates about woman's rights and women's status from the late colonial period through the early woman's rights movement in the 1850s.
Prof. Murphy also has written Women and the Making of America, co-authored with Mari Jo Buhle and Jane Gerhard. In this survey of women's history, the authors focus specifically on ways in which gender is part of a larger system of power relations that involve race, class, and imperialism. Prof. Murphy wrote the first eight chapters of this book, which cover the evolution of gender relationships in the pre-contact era up until the Civil War. Here, she explores the ways in which different ideas of family, property, and sexuality were a crucial part of the gendered frontiers that were created and re-created in the Americas. She also traces the ways in which these ideas changed in response to new political and economic developments, particularly in the nineteenth century, and the ways in which regional divergences occurred not only between the North and the South, but the East and the West. And, of course, she examines the ways in which women challenged and shaped the laws by which they lived.
Prof. Murphy is currently collaborating with Barbara Clark Smith, Curator at the Smithsonian National Museum of American History, on a project entitled The Material Life of Political Culture. This research is expected to inform upcoming exhibits and collecting strategies at the Smithsonian. 
Prof. Murphy's graduate seminars have generally reflected these research interests. In recent years she has taught graduate seminars on Cultural History, Women's History, and the Culture of Consumption, all focused on the period before 1900. She has also worked with Prof. Chad Heap to create a new two-semester grad seminar on Gender and Sexuality, which they expect to introduce next year. She looks forward to working with students on field exams and dissertations on a wide range of topics that might evolve from these courses.
---
women's history, gender and sexuality, cultural history
Recent and current dissertations directed by Prof. Murphy include research on:
The relationship between cultural understandings of suicide and the emergence of the eugenics movement
The significance of women, gender, and race in the conquest and settlement of Florida during the period of the Seminole Wars
The practices of citizenship in the early republic, focusing on the way in which gender, ethnicity, and race shaped affected approaches to citizenship
The way in which women in the nineteenth century shaped Native American policy and reform
The role of vision in the cultural production of art and literature in the antebellum period (with David Bjelajac)
The relationship between visual culture and the creation of middle class identity