Department News, Winter 2016
Message from the Chair
Department Spotlights
Department Announcements
Alumni Updates/Class Notes
Donor Recognition
Support the Department
Stay Connected
---
Message from the Chair
Department Chair Professor Gayle Wald
Dear American Studies alumni and supporters,
I'm delighted to introduce myself as the new chair of American Studies. I'm new-ish to the department, having spent most of my 21 years as a GW professor teaching exclusively in the English Department but working closely with American Studies faculty and graduate students. Several years ago, through a joint English and American Studies appointment, I was able to formalize these longstanding and deep connections. I teach and conduct research on African American culture and popular culture and media more generally, with a focus on popular music. My interest in pop music dates to my graduate years at Princeton, where I became intrigued by the way young women were tapping into the power of rock and rap music to express new ways of imagining both feminism and women's power.
I am lucky to come to the chair's position on the heels of my colleague and friend Melani McAlister, who has steered the department for three years with great ability and energy. American Studies at GW is small but mighty. We offer a boutique education for our majors and minors, who interact closely and in intimate settings with our excellent faculty; and every year we educate hundreds of students from all sectors of the university, who are drawn to our offerings on topics from Sexuality in U.S. History (Professor Heap) to The American City (Professor Osman) to Zombie Capitalism (Professor Orenstein—and you have to take her class to find out more!). Our MA program provides a well-rounded education to students pursuing varying career goals, from academia to the nonprofit and education sectors and our PhD program attracts some of the field's finest young scholars, who are doing cutting-edge research on all manner of topics, including religion, race, science fiction, feminism and the environment.
At the heart of the American Studies enterprise is a commitment to producing new knowledge about the world—and the country—in which we live. This summer, thanks to our generous alumni and to the support of the Jeffrey C. Kasch Foundation, we were able support graduate and undergraduate student research. Click here to find out more about the exciting projects our students pursued.
And finally: American Studies alumni are doing great things! In this newsletter we particularly highlighting the work of three of our PhDs who hold important curatorial positions at the new National Museum of African American History and Culture, which opened on the National Mall earlier this fall. But we welcome all of your news, big and small. We love to be able to share with current students inspiring stories about how alumni are using their degrees in the world. And if you're ever in Foggy Bottom, please stop by to say hello.
Gayle Wald
Chair, Department of American Studies
---
Department Spotlights
Assembling a Complex History of Black Life in America
American Studies Alumni reflect on their beginnings and what it means to do public history at the Smithsonian National Museum of African American History and Culture.
Three American Studies alumni—Michelle Gates Moresi, PhD '03, Kevin Strait, PhD '10, and Paul Gardullo, PhD '06—are currently curators and museum specialists at the Smithsonian National Museum of African American History and Culture (NMAAH). We are incredibly proud of these three, and sat down to speak with Paul and Michele on how their American Studies training contributed to their efforts reconstructing narratives of African American history.
Q: How did your PhD in American Studies prepare you for your work at the NMAAHC?
Paul Gardullo: Working in an interdisciplinary field of study that brings together a variety of sources of information from films, art, literature, to material culture, folkways and historiography was essential preparation. Because American Studies is already built upon the notion that history and culture inform one another, I felt like it was a natural transition to the work of building this museum of history and culture.
All that said, the community of faculty and students was probably the biggest factor in helping me to feel challenged and comfortable and (yes I'll say it, loved) in what I wanted to do: working at a high academic level and bringing what I was learning into conversations with people outside of academia. While many were crucial to this approach and my development as a public scholar, I would be remiss if I didn't mention two men, James A. Miller and James O. Horton, who believed in me and fostered in me an approach toward African American and American history and culture that is fully reflected in the mission of the museum and in an approach to doing this kind of work, whether it is in classes, museums or elsewhere. Work that seeks to make critical change in the world. I carry their lessons with me every day.
Michelle Gates-Moresi: The interdisciplinary nature of my studies were definitely a plus. It prepared me to be nimble, ask lots of questions and go to unusual sources as part of the research process. It was also helpful in the exhibition development to push me, and my colleagues, to telling stories that are multidimensional and challenging.
Q: What advice would you give to today's American Studies students who are interested in careers in the museum world? 
PG: Don't be afraid to take risks!  Don't be so career focused that you lose sight of what drives you and what you are passionate about. Never let your ambition be limited purely by a focus on what you think a career could or should be.
MGM:  Don't agonize over your focus areas, if they "fit" the job market forecast. Rather, make sure you love the subject areas you are engaged in and make sure the skills you are developing are applicable across disciplines.
Click here for a feature article from the CCAS November Spotlight newsmagazine on the process of collecting exhibit pieces for the grand opening of the NMAAH.
In the Sophomore Colloquium on the nature of children, Professor Jamie Cohen-Cole works side-by-side with a small group of students to explore, in depth, the confluence of science and culture.
Investigating Transgender Identity in American History
Professor Larson leads a class discussion
Visiting Assistant Professor Scott Larson designed and taught the fall course Trans* American Histories— the first course of its kind in the university. We recently sat down with Scott to discuss his experiences.
Q: What is the focus of this class?
Scott Larson: The class is called Trans American Histories, so on one hand we are studying the history of transgender identities and communities in American history. But really the class and what we're investigating is much broader that: it's investigating gender variation and non-conformity broadly, and asking how gender variation shapes the lives of people and communities who do not see themselves as transgender, but whose lives are shaped by regimes of gender norms. These gender norms shape not just what it means to be a man or a woman, or what it means to be trans. They are also fundamentally intertwined with (and formed along with) categories of race, ability, class, religion, urban space, sexuality and more.
American Studies in Russia: Jenna Friedberg
American Studies BA/MA student Jenna Friedberg spent the spring semester studying abroad in Saint Petersburg and was kind enough to share her experiences with us here:
My first week in Russia was a rude awakening. It is cold, it is always precipitating in some way and the sky is never blue—at least in the winter. Russians get a bad reputation. But it is true, they do not smile, they are not often gregarious and they ask a lot of questions Americans would describe as "intrusive." But when you get to know them, really and personally get to know them, they are just as warm and as friendly as your neighbor down the street. My host mother, who I affectionately referred to as my babushka, welcomed me into her small apartment with trust and warmth and love. By the end of my time in Russia, Marina and I had actually grown quite close. She is a retired electrical engineer, a Soviet intellectual of the highest caliber. We ate breakfast and dinner together every day, sharing stories about our families and interests. Marina may have spoken no English, and my Russian may have started out elementary, but we never ran out of something to talk about.
Meet our Graduate Students!
We have an incredibly talented group of MA and PhD students in American Studies, with research interests ranging from post 9/11 studies and popular culture to concrete environments and labor issues. As part of our ongoing efforts to showcase our students, we sat down to conduct interviews with the newest members of our AMST community. We're happy to introduce Erik Hollis, an American Studies PhD student in his second year here at GW.   
Q: What are you studying/working on right now?
Erik Hollis: I'm currently working on an article that explores (anti)blackness as an ontological structure undergirding discourses of both transness and queerness, looking to film and theatrical performances as case studies.
Q: What advice would you give to GW undergraduate students in American Studies, or students interested in pursuing a PhD?
EH: Make sure you're doing it for yourself and not to please others, first off. Also, go to office hours and talk to professors and graduate assistants about their experiences and what brought them to pursue graduate study. 
Q: What has been your favorite part of being in D.C. so far?
EH: I'm a huge concert-goer, so being in a city where all the acts I love stop during their tours has been nice. The variety of restaurants. Also, being around more black people than in Arizona.
Q: What are your future career goals?
EH: I'm not sure yet, to be honest. But documentary filmmaking has always been an interest of mine, which is another reason why I decided to come to GW given its Documentary Filmmaking Graduate Certificate program.
Q: What is your favorite book?
EH: Lose Your Mother by Saidiya Hartman and Does Your House Have Lions? by Sonia Sanchez.
Q: What is a random, interesting fact about you?
EH: I've never had a cavity, which I guess probably wouldn't be all that interesting apart from the fact that I eat sweets more than anyone else I know. Also, I'm really fascinated by insect taxidermy.
---
Department Announcements
Current Students
Fellowship Q & A With PhD Student Thomas Dolan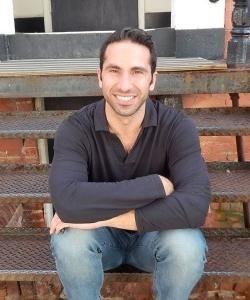 We sat down to speak with Thomas Dolan, 2016 recipient of the Calouste Gulbenkian Global Excellence Scholarship.
Q: Can you explain what the Gulbenkian Fellowship is and what you will be doing?
Thomas Dolan: The Global Excellence Scholarship provides especial support for Armenian scholars working in the social sciences and humanities. My proposal outlined plans for my dissertation research and particularly my goal of focusing on writing and publication after finishing my coursework and comprehensive exams. 
Read the rest of our interview with Thomas here.
Jeffrey C. Kasch Foundation Research Trip by Kim Probolus
Thanks to the very generous support of the Kasch Foundation, I visited 10 different archival collections between mid-May and mid-August. During the course of my research, I accessed both restricted and public materials. These included a longitudinal study of child rearing practices and achievement motivation (housed at the Murray Center at Harvard University), files regarding the 1974 Boston desegregation case Morgan v. Hennigan (housed at NARA Boston, the Boston City Municipal Archives, and UMASS Boston), METCO—the voluntary bussing program for minority students—files (housed at Northeastern University), as well as local and regional newspapers (housed at the Boston Public Library). 
Department Events
Liam Kennedy book launch: Afterimages: Photography and US Foreign Policy
Liam Kennedy with AMST PhD students Justin Mann, Julie Chamberlain and Zaynab Quadri
On Monday, November 14th, the Department of American Studies cohosted a book launch featuring Professor Liam Kennedy, director of the Clinton Institute for American Studies at University College Dublin. His new book, Afterimages: Photography and US Foreign Policy (University of Chicago Press, 2016) "maps the evolving relations between the American way of war and photographic coverage of it."
Film Club
This semester, the American Studies film club analyzed the cultural history and significance of adventure films. Our "Age of Exploration" semester examined traditional westerns like True Grit, Disney classics like Pocahontas and contemporary science fiction like The Martian. Students had the opportunity to engage in thoughtful discussions about frontier theory in popular culture, as well as America's evolving history with expansionism.        
---
Alumni Updates/Class Notes
Daniel Beck, MA '12, recently published his fifth institutional history, written for Dorset Field Club (the oldest continuously operating golf club in America). Beck is currently writing five additional titles, from an engineering firm to a medical organization.
Kathleen Brian, PhD '13, recent research will appear in the Bulletin of the History of Medicine (winter 2016), and her coedited volume on disability and masculinity is forthcoming from Oxford University Press (2017). She teaches at Western Washington University.
Michelle Delaney, MA '91, is the senior program officer for history and culture in the Smithsonian Institution's Office of the Provost, and is a history PhD candidate at the University of Strathclyde, Glasgow, Scotland.
Danielle Dettling, BA '16, is completing a service year in Sacramento, Calif., with AmeriCorps NCCC, a team based service program for 18-24 year olds.
Jessica Elfenbein, MA '89, spent the last 10 years in academic administration and is now back on the faculty as professor of history at the University of South Carolina.
Liz Farmer, BA '02, celebrated four years of writing for Governing Magazine in 2016. She has been lucky enough to travel all over the United States, from California to Alabama to New York. She lives in Rockville, Md., with her husband (CCAS '03) and their son.
Ian Funk, BA '16, was accepted into the PhD program in American Studies at the University of Maryland. He is currently writing, researching  and presenting on queer masculinities, pornography, camp and queer politics.
Ruth Glick, BA '64, as a New York Times and USA Today best-selling author, continues her career writing mostly fiction—although she has also written 16 cookbooks. Glick is working on her 160th book, a paranormal romantic suspense novel by her pen name, Rebecca York.
Emmanuella Greene, BA '02, after an 18-month stint in New England, has relocated back to Northern Virginia. This summer she started her first job in the public sector since leaving GW. She is proud to now say that she works at the National Education Association as a contracts professional.
Polly Gregory, BA '16, is living in Los Angeles, Calif., and working at United American Costumes, which specializes in period costumes for movies and TV. She loves seeing her American Studies degree at work by understanding how cultural moments impacted the clothing from each period.
Michael La Place, BA '85 is the Director of Planning and Economic Development for the County of Passaic, New Jersey. He also received his master of urban & regional planning degree from GW in 1989.
David Lombardi, BA '81, owns a video production company in Maine. He has spent most of his career in advertising producing commercials and corporate messaging.
Carl Lounsbury, BA '08, co-authored the Journal of Urban History article, "Design Assimilation in Suburbia: Asian Americans, Built Landscapes, and Suburban Advantage in Los Angeles' San Gabriel Valley since 1970," which won the Urban History Association's Arnold Hirsch Award.
Michael Miller, MA '91, works as a psychotherapist. Miller says that his GW education led him to work in the folk cultural realm for about 20 years. This included permanent exhibitions in South Dakota and Delaware.
Paige Roberts, PhD '00, works as director of archives and special collections at Phillips Academy (Andover, Mass.) when she is not hiking in the White Mountains of New Hampshire or swimming.
Meg Smith, BA '05, is starting her fourth year as a program manager at Google in New York. Check out Local Guides on Google Maps!
Robert Solomon, BA '72, had his third, substantially revised edition of Solomon's well-regarded and widely read book, The Art of Client Service, published by John Wiley & Sons. He continues to conduct workshops and give presentations that pick up where the book leaves off.
---
Donor Recognition
THANK YOU FOR YOUR SUPPORT!
The Department of American Studies would like to gratefully acknowledge the following generous donors who made a gift to the program from  July 1, 2015 – June 30, 2016. THANK YOU FOR YOUR SUPPORT!
Ariel S. Amaru, BA '16
Jacob A. Balter, BA '00
Jean Brodsky Bernard, BA '70
Sidney Bland, PhD '72
Rebecca L. Byrd, BA '02
Mary A. Eaddy, MA '85
Patricia R. Evans, PhD '87
Richard Michael Evans, LLM '75
Evelyn D. Furia, BA '03
John K. Goudelias**
Rena A. Goudelias**
Sophia M. Grillo, BA '14
Alison K. Hoagland, MA '79
Talib Hudson, BA '04
Paul C. Kendrick, BA '05, MPA '07
Susan L. Klaus, MA '88
Michael J. La Place, Jr., BA '85, MUP '89
Susan Grob Lichtenfeld, BA '74
Melani McAlister+
Bernard M. Mergen+
Katherine M. Muraszko, BA '15
Susan Emily Novik, BA '73
Ralph Ibikunle Ogundiran, BA '12
Marianne R. Phelps, MPhil '73, PhD '80
Marisa L. Ranieri, BA '12
Kevin Conley Ruffner, PhD '91
Edwina J. Snow, MA '72
Kathleen Anderson Steeves, MPhil '87, PhD '87
Mary M. Stewart, MA '12
Jason A. Tercha, MA '13
Carole McAlpine Watson, PhD '78, DPS '15
Thomas William Yanni, MA '94
+ Faculty/Staff
# Parent
~ Student
* Friend
---
Support the Department
Gifts to the Department of American Studies allow us to provide support for faculty and student research and travel, graduate student fellowships, and academic enrichment activities including guest speakers, visiting faculty, and symposia. Each gift, no matter how large or small, makes a positive impact on our educational mission and furthers our standing as one of the nation's preeminent liberal arts colleges at one of the world's preeminent universities.
You can make your gift to the department in a number of ways:
Click on the link for the Horton-Vlach Fund for American Studies to designate to the fund.
Click here to donate to the American Studies Department Alumni Fund.
Securely online at www.gwu.edu/give2gw. Just choose "other" under designation and type in the name of the department.
By mailing your check, made out to The George Washington University and with the name of the department in the memo line, to:
The George Washington University
2033 K Street NW, Suite 300
Washington, DC 20052
By phone by calling the GW Division of Development and Alumni Relations at 1-800-789-2611.
---
Stay Connected
Connect with alumni in your industry through both virtual and in-person networking programs.
Get involved with several opportunities from mentoring students to engaging with fellow alumni.
Connect with GW Economics on LinkedIn!
Connect with the larger GW and CCAS community through LinkedIn!