Department News, Fall 2020
Message from the Chair
Department Spotlights
Department Kudos
Class Notes
Donor Recognition
---
Message from the Chair
"Historically," Indian author and activist Arundhati Roy wrote, in April 2020, "pandemics have forced humans to break with the past and imagine their world anew. This one is no different. It is a portal, a gateway between one world and the next."
Students and faculty at the Department of American Studies will—for generations, most likely—grapple with the validity of this statement, teasing out the new and old worlds that the twin, intersecting pandemics of COVID and white supremacy have fashioned.
The members of our department have lived this time of suffering and change and possibility by adjusting our research agendas, moving our teaching online, caring for loved ones, marching in the streets and, as always, exploring and imagining our world anew. Along the way, we've also somehow managed to keep the professional accomplishments coming, as this newsletter shows.
We do so buoyed by the knowledge that we are enmeshed in a broader GW American Studies community, of which you all, as current and former students and faculty, are vital members. Thank you.
Tom Guglielmo
Department Chair
---
Department Spotlights
New Books from Our Department Faculty
We are pleased to announce that two of our associate professors recently released their newest books. Elaine Peña wrote Viva George! Celebrating Washington's Birthday at the US-Mexico Border. And Dara Orenstein authored Out of Stock: The Warehouse in the History of Capitalism. 
In ¡Viva George! Celebrating Washington's Birthday at the US-Mexico Border (University of Texas press, 2020), Associate Professor of American Studies Elaine Peña offers rich insight into the Washington's birthday celebration. George Washington's birthday celebration was a festival organized annually by Laredo, Texas and its twin city, Nuevo Laredo, Tamaulipas, Mexico. ¡Viva George! is an ethnographic and historical understanding of the month-long fete and the cultural, economic and political implications of this unique cross-border celebration. Peña traces the evolution of the festival from its establishment as an attempt to Americanize the Mexican residents of Laredo to its latest iteration. This is a wonderfully peculiar amalgamation of American history and Mexican influence, both absorbing and reflecting the particular cultural moment. This is embedded in a physical and symbolic embodiment that "borders, in a cultural sense, are imaginary, and if they aren't they're made of more air than steel."
"What the book figures out is, yes, on the surface and even deep into these traditions, as misguided as they seem, there is a logic to it—an economic logic to it," Peña said. "But then there's another part of it which is, yeah, it may seem bizarre to celebrate George Washington's birthday, but for me that became more a question of not, 'What's wrong with it?' but how is this related more to our general thinking about patriotism? Proper geography? About where American history thrives? The proper place for American history?"
Read more about Professor Peña's research in this feature by GW Magazine.
In Out of Stock: The Warehouse in the History of Capitalism (University of Chicago Press, 2019), Dara Orenstein, associate professor of American studies, delivers an absorbing and sophisticated account of perhaps the most generic and underappreciated site in American commerce and industry: the warehouse. She traces the progression from the 19th century's bonded warehouses to today's foreign-trade zones and contends that these zones are emblematic of why warehouses have begun to supplant factories in the age of Amazon and Walmart. Drawing from cultural geography, cultural history and political economy, Orenstein demonstrates the centrality of warehouses for corporations, workers, cities and empires.
Phil Ochs' Impact on Jeslyn Zakes
American Studies major Jeslyn Zakes, BA '20, traveled to the Phil Ochs archive at the Woody Guthrie Center in Tulsa, Oklahoma, in March 2020, with support from Columbian College and the Department of American Studies. 
In the 1966 live recording of his song "Love Me, I'm a Liberal," Phil Ochs speaks to his audience in between a couple of lines and says: "D.A.R., that's the Dykes of the American Revolution." Zakes' project examines the meaning of this remark, and explores Ochs, the American Folk Music Revival and the dyke-identity in mid-20th century America. Check out pictures from her research trip.
Alumna Spotlight: PR Pro Brooke Schlesinger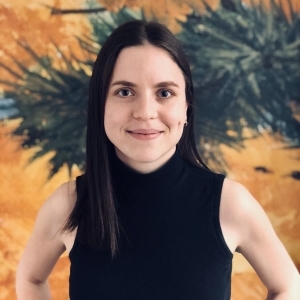 American Studies alumna Brooke Schlesinger, BA '14, has gone on to work at TEDx and currently is employed as a campaign manager at The Ad Council. We sat down with Brooke to learn more about her time in American Studies and how it shaped her approach to marketing and public relations.
According to Brooke, "American Studies showed me how influential media can be, in both positive and negative ways. I graduated GW knowing that I wanted to use media as a force for good, to expand mindsets and open doors for people." Read about Brooke, her work and her advice for current American Studies students.
---
Department Kudos
Elisabeth Anker spoke to Aljazeera English about the whistleblower complaint against President Trump, the House impeachment inquiry and whether the election can be delayed. She was also quoted by The Hill in the article "Controversial satire 'The Hunt' tackles partisan divide."
PhD Student Vyta Baselice was awarded the 2020 Mellon/American Council of Learned Societies Dissertation Completion Fellowship, along with the Archie Green Fellowship from the American Folk Life Center at the Library of Congress. She presented "Following the Concrete Supply Chain: Quarries, Industrial Planning, and Environmental Racism in the Lehigh Valley" at the Dumbarton Oaks symposium on landscape and segregation, and published "Shrouded in Dust: The Unseen Labor of African American Cement Workers" in the Journal of Architecture Education, and "The Way Concrete Goes" for The Metropole. 
David Bjelajac authored the chapter "Freemasonry's 'Living Stones' and the Boston Portraiture of John Singleton Copley," in Freemasonry and the Visual Arts from the Eighteenth Century Forward (Bloomsbury, 2019).
PhD candidate Thomas Dolan authored the article "Shakira Personifies a Multicultural Identity in a Globalized World" for Arab America and "Aliya Hassen: Transnational Networks, Ecumenism and American Islam" for Mashriq & Mahjar: Journal of Middle East and North African Migration Studies.
Vanessa Northington Gamble was quoted by TIME in the article "COVID-19 Isn't the First Pandemic to Affect Minority Populations Differently. Here's What We Can Learn From the 1918 Flu," by Quartz in the article "American healthcare's racist history helped fuel a fear of vaccines," by Science Magazine in the article "From Black Death to fatal flu, past pandemics show why people on the margins suffer most" and by USA Today in "Fact check: Father of modern gynecology performed experiments on enslaved Black women." She also spoke to WBUR-FM's Here and Now in the segment "Racial Health Disparities In Richmond, Virginia, From 1918 Flu To Coronavirus."
Tom Guglielmo has consulted with Rep. James Clyburn's office on The GI Bill Repair Act of 2020, which "seeks to repair the economic harms experienced by Black World War II veterans and their families as a result of denied access to the full range of G.I. Bill benefits." Guglielmo has also consulted on and signed an amicus brief in a recent successful defense of Deferred Action for Childhood Arrivals (DACA) before the Supreme Court. He has provided expert testimony in a recent successful legal challenge of Virginia's race requirement in its marriage licenses and is serving on an advisory board for the NEH-funded digital humanities project, "The American Soldier in World War II," an online collection of over 65,000 handwritten survey responses containing the personal comments of American soldiers in the Second World War.
Nicole Ivy was quoted by Jezebel in the article "Does the Museum Model Work?"
Richard Longstreth was quoted by Quartz in the article "What is classical architecture? It's not exactly what the Trump administration thinks it is."
Melani McAlister organized and moderated Remembering Biafra, a panel discussion on the Nigeria-Biafra war of 1967-1970, through the Institute of African Studies. The panel addressed the international response to the war and its global implications, and how to incorporate these in teaching and scholarship. The panel also celebrated the launch of the Remembering Biafra website, a collection of primary sources and background information on the war.
Amber Musser was quoted by Vice in the article "Fuck the Police: Why Does Cop Porn Still Exist?"
PhD candidate Zaynab Quadri wrote a prize-winning essay on a Vietnam War exhibit installed at GW in the fall.
Gayle Wald was quoted by Rolling Stone in the article "Yola Set to Play Sister Rosetta Tharpe in Baz Luhrmann's 'Elvis."
---
Class Notes
Craig Lanier Allen, PhD '19,  was awarded an American Council of Learned Societies Emerging Voices fellowship. He will serve on the faculties of History and French Studies at New York University and direct NYU's Public Humanities Initiative.
Sara Awartani, PhD '20, was awarded a Global American Studies postdoctoral fellowship from the Charles Warren Center at Harvard University.
Cary Cheifetz, BA '76,  has been installed as an officer of the American Academy of Matrimonial Lawyers Foundation, a national charity which provides grants to eligible organizations that protect families and children.
Kenneth Cotton, BA '75, currently resides in Los Angeles and is a partner in the private equity firm Wilson, Cross, & Talbot. He was formally the vice president of operations and now concentrates on a specific group of acquisitions in the healthcare sector.
Michelle Delaney, MA '91, just celebrated 31 years working at the Smithsonian Institution in 2020, and started a new position at the National Museum of the American Indian as assistant director for history and culture.
In Memoriam: James Moore Goode, PhD '95, Read Emeritus Professor Richard Longstreth's tribute to him.
Talib Hudson, BA '04, is the new policy director at Community Justice Action fund, an organization that builds power with and for communities of color to end gun violence.
Paul Kaplan, MA '79, has been a museum curator (while still in school), technical writer and a technical and healthcare editor. He lives in Philadelphia and works at a pharmaceutical company.
Mark Kates, BA '82 is proud to be a founding member of the WRGW Alumni Committee who seeks to identify alumni. He is asking fellow alumni to please let him know if you were part of the station in any way while at GW.
Michael La Place, BA '85, MA '89, is the planning director for Princeton, New Jersey. Michael is managing the implementation of the Fair Share Affordable Housing Plan and providing design review of several major new campus projects at Princeton University.
Ciaran Lithgow, BA '17, is currently working towards a master's of community and regional planning at the University of New Mexico in Albuquerque. They are also working full time at CBRE, the world's largest international commercial real estate firm.
Robert Michaels, BA '74, recently retired after nearly 40 years as a city planning consultant. Robert also moved from New Jersey to Hilton Head, S.C.  He is dividing his time between Hilton Head and Ashburn, Virginia.
Makiko Monden, BA '77, now lives in Tokyo.
Anayeli Nunez Almengor, BA '19, just moved to the Bay Area where she is starting her PhD at UC Berkeley in history. She will be looking primarily at Mexico and it's transnational connections in the 20th century.
Kim Probolus, PhD '19, authored the opinion piece "Men, You Need to Listen to Women" for The New York Times. 
Torrey Sanders, BA '17 was accepted into NYU's Music Business program.
Brian Santana, PhD '12 is currently a lecturer of English and Modern Languages at Shepherd University in Shepherdstown, West Virginia.
Renee Scott, MA '19 is now a doctoral student in the Department of Women's Studies at The University of Maryland, College Park.
Liz Sieck, BA '13, is slated to begin her PhD at Ben Gurion University of the Negev in October 2020. She will utilize a multidisciplinary approach to assess through qualitative research the cultural barriers to success and failure for Bedouin women in the Negev.
Kelly Straw, BA '09,  is an artist manager in the music industry.  She heads up the Los Angeles outpost of U.K.-based firm Modest! Management.
Scotty Suter, PhD '94, published his book A Potter's Progress: Emanuel Suter and the Business of Craft earlier this year by the University of Tennessee Press. He is a professor of English and American Studies at Bridgewater College.
---
Donor Recognition
THANK YOU FOR YOUR SUPPORT!
The American Studies Department would like to gratefully acknowledge the following generous donors who made a gift to the department from July 1, 2019 – June 30, 2020.
+ Faculty/Staff | # Parent | ~ Student | * Friend
Independent Alumni Association for GW
The Jeffrey C. Kasch Foundation
Ashley Brown, MPhil '15, PhD '17
Margaret Brown, MPhil '88, PhD '83
Richard Brown, BA '84, MA '90
Michelle Cohn, BA '18
Mary Eaddy, MA '85
Elizabeth Ellsworth-Kasch, BA '08, MA '14
Richard Evans, Esq., LLM '75
Patricia Evans, PhD '87
Susan Lichtenfeld, Esq., BA '74
Alison Hoagland, MA '79
Lois Horton *
Talib Hudson, BA '04
Jeffrey Kasch #
Mark Kates, BA '82
David Kieran, PhD '09
Dr. Richard Longstreth +
Dr. Bernard Mergen +
Howard Moss, BA '74
Katherine Muraszko, BA '15
William Near, BA '16, MA '17
Susan Novik, BA '73
Jean Preer, JD '74, PhD '80 +
Rabbi Betsy Roth, MA '07
Kevin Ruffner, PhD '91
Nancy Solomon, BA '79, MA '85
Kathleen Steeves, MPhil '87, PhD '87 +
Sally Stokes, MA '75
Samuel Stokes *
Philip Terrie, MPhil '79, PhD '79
Christopher Zarpas, Esq., BA '79