2022 American Studies Newsletter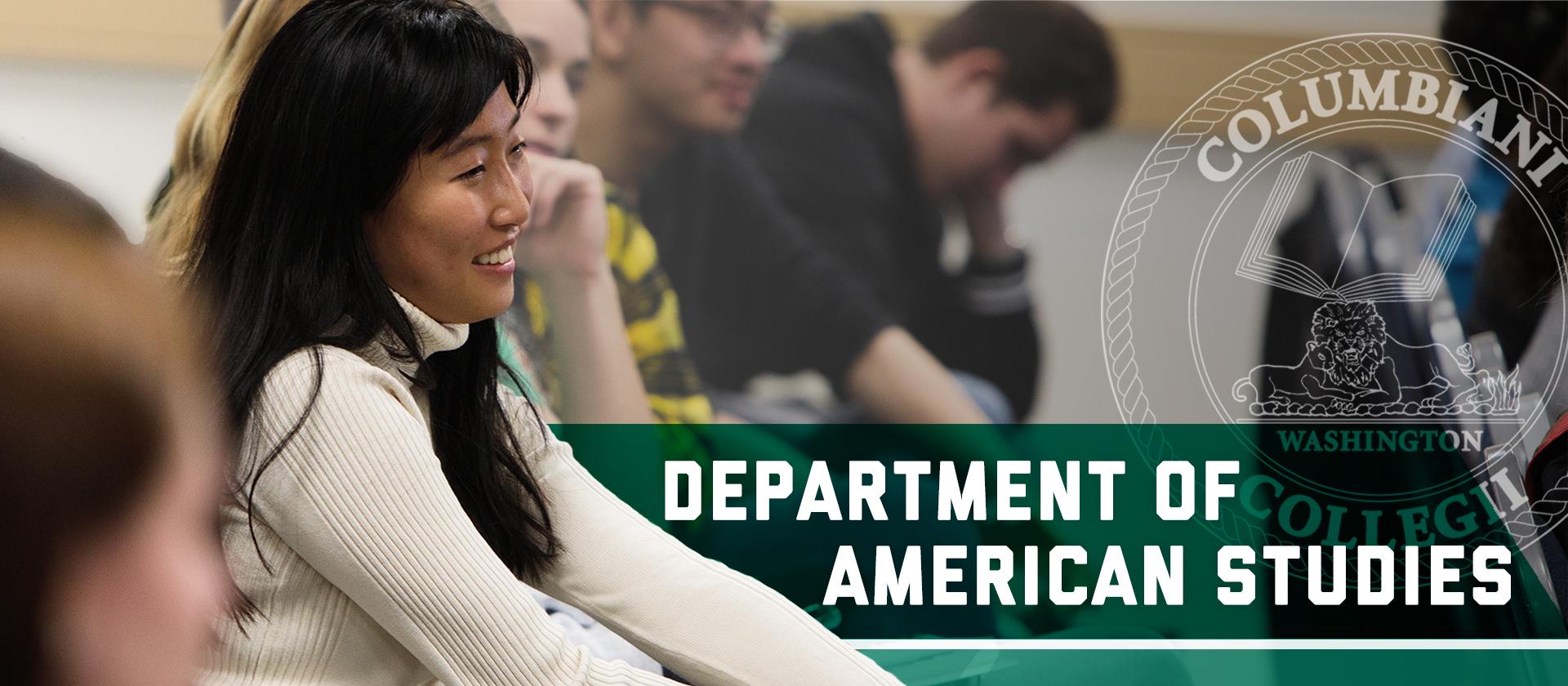 Message from the Chair
Department Spotlights
Department Kudos 
Alumni Class Notes 
---
Message from the Chair
Dear American Studies Alumni,
I hope you are doing well and enjoying the last few weeks of 2022. It is with great sadness that I share the passing of our longtime American Studies Professor John Michael Vlach on October 30, 2022. A distinguished scholar of 10 books and a curator of numerous museum exhibits, he was a professor in our department for 32 years, mentoring countless students, some of whom went on to become founding curators at the National Museum of African American History and Culture.
Our small but mighty department stands on the shoulders of eminent former faculty members like Professor Vlach. He helped lay the foundation for so many of the recent achievements this newsletter features.
To everyone in the GW American Studies alumni community, I thank you so much for your ongoing support and involvement. Please stay in touch.
Sincerely,
Tom Guglielmo
Chair, Department of American Studies
---
Department Spotlights  
American Studies Senior Teaches Youths to Prosper Together
Current senior Rayaan Ahmed has worked to bring mutual aid to students in Minnesota and Somalia as they are learning to address public service, social issues and other important life skills. Rayaan's project, under Associate Professor of American Studies Dara Orenstein's faculty leadership, connected the Southside Child Development Center in her hometown of Minneapolis and the Al-Aqsa after school program in her mother's hometown in Mogadishu. She was profiled in GW Today.
Biden Appoints University Professor Gamble to National Council on the Humanities
Vanessa Northington Gamble, the first woman and African American to hold the position of University Professor at George Washington University and who regularly teaches courses in American Studies, was confirmed by the U.S. Senate as a member of the National Council on the Humanities. She was featured in GW Today. 
---
Department Kudos
---
Alumni Class Notes
Sophia Balemian-Spencer, BA '18, recently passed the D.C. Bar.
Rebekah Beaulieu, BA '03, is president & CEO of the Taft Museum of Art in Cincinnati, Ohio. Rowman & Littlefield published her book Endowment Essentials for Museums in August 2022.
Ashley Brown, PhD '17, will have her book Serving Herself: The Life and Times of Althea Gibson published by Oxford University Press in February 2023. Gibson (b.1927- d.2003) was the first African American to compete at and win Grand Slam tennis titles.
Cary Cheifetz, BA '76, was selected by Chambers International for inclusion into its Guide for Divorce Representation of High Net Worth Individuals. He is co-author of New Jersey Family Law, published by LexisNexis and practices family law in Summit, NJ.
Jacqueline Drayer, BA '15, MA '18, is founder and principal of Mulberry History Advisors, a preservation-consulting firm based in Richmond, Va. She provides clients nationwide with historic designation, preservation planning, Section 106 and communications services.
Emily Dufton, MA '10, PhD '14, received a 2022 Robert B. Silvers Grant and a 2022 Whiting Creative Nonfiction Grant for her current manuscript Addiction, Inc.: Medication-Assisted Treatment and the War on Drugs, under contract with The University of Chicago Press.
Olivia Dunn, BA '20, began a job at the Smithsonian National Museum of Natural History, working in procurement, finance and acquisitions across all departments after a year of teaching special education.
Lisa Dunn, BA '92, started a new job in April 2022 at GW in athletics development and alumni relations.
Jessica Elfenbein, MA '89, is in her second term as chair of the Department of History at the University of South Carolina. Her current work is centered on the role of lumbering, manufacturing and conserving forests in South Carolina.
Dennis Gale, PhD '82, is a professor emeritus at Rutgers University and recently completed 10 years of teaching at Stanford University. Temple University Press published his book The Misunderstood History of Gentrification in 2021.
David Heinzmann, BA '90, became a director of investigations with 221B Partners, a Chicago investigative and business intelligence consulting practice, after nearly 30 years as an investigative reporter, including 22 years with the Chicago Tribune.
Joseph Malherek, PhD '15, recently had his book European Émigrés Who Made Capitalist Culture in America, 1918-1968 published by Central European University Press. Noted labor historian Nelson Lichtenstein called it "a marvelous intellectual and cultural history."
Paige Roberts, PhD '00, lives in Portsmouth, N.H., and has been director of archives and special collections at Phillips Academy in Andover, Mass., since 2012.
David Tevelin, BA '70, JD '74, served as the first executive director of the State Justice Institute after graduating from GW. He has since written four historical fiction crime novels set in D.C. His latest, Three Dead in Starbucks, was published in November 2022.